When you hire Nevada Security Services for your security needs, you get the assurance that your premises and surroundings are safe under the watchful eyes of our highly-trained security guards. However, if you're wondering how we begin our services and how our Las Vegas security guards map out patrols, you may want to understand our process better.
Let's discuss how our security guards create a customized security plan for your business.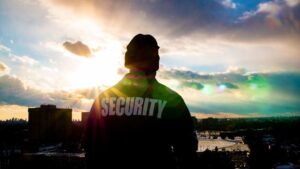 Analyzing The Situation
We believe in taking full accountability for the current situation at your premises to decide on the course of security setup and patrols. We do this by inspecting the area that will be guarded and gathering as much information as possible from you regarding the building and surroundings. Our security team will require information about the size of the place, floor space, various entrances and exits in the building, etc. We want this information from you to understand the security needs and strategically place guards in places that will be most effective.
Assessing Vulnerabilities and Security Threats
While all buildings have security vulnerabilities, they differ in severity and probability. Our Las Vegas security guards take a comprehensive approach to identify vulnerabilities that can compromise the security of your premises and surroundings. Our expert security team will require information on previous security issues you have experienced and the patterns you've observed.
Along with the information you share with us, we make our observations of the premises including the parking lot and surrounding areas to understand potential security risks. If we feel that your contribution can eliminate or minimize the security vulnerability in an area, we will share our concerns with you. The complete assessment of all security risks allows us to determine the services you need.
Choosing a Route
Security guard companies can handle the need for additional security personnel for business shows and events without any problem. You do not have to look for more security guards for security purposes as the security guard company is flexible to handle temporary requirements. The ability to scale up your security needs without having to worry about huge costs and time requirements is solved when you're working with a trusted security guard provider.
You no longer have to worry about extra security when you need it. A reliable security guard agency can provide you with more security as and when you have the requirement for it.
Regular patrols are important to maintain security checks and catch any unwanted behavior by malicious actors. After analyzing and assessing the situation in the assigned area, we will figure out a route and time range for security patrols. Based on our understanding of your neighborhood and patterns observed in previous security breaches, we will decide a route to take for monitoring and preventing criminal activity. If your property is large, checkpoints will be placed in appropriate places for the security guards to always have superior positions that increase accessibility and ability to take action while minimizing exposure to risk.
The Las Vegas security team is aware of criminals understanding the blueprint for patrols to try to take advantage of non-patrol hours to trespass and indulge in bad behavior. This is why we promptly change our patrol route and timing on purpose to catch malicious actors by surprise. Since we have an established pattern with patrols, it is easy for us to come up with a new route and time to catch unwanted visitors off-guard. Also, this gives us the flexibility to continue adding new patrol routes and time to strengthen the security of the building.
If you're looking for an armed and unarmed security guards team in Las Vegas for your buildings, conventions, conferences, and celebrations, you can contact Nevada Security Services, the leading security company in Las Vegas to get a free quote for security services. We are committed to providing high-quality security services for your needs with our qualified security guards.